YouTube
Peso Pluma Goes Sneaker Shopping With Complex
Aiden Starling
Updated Tuesday, September 19, 2023 at 12:00 AM CDT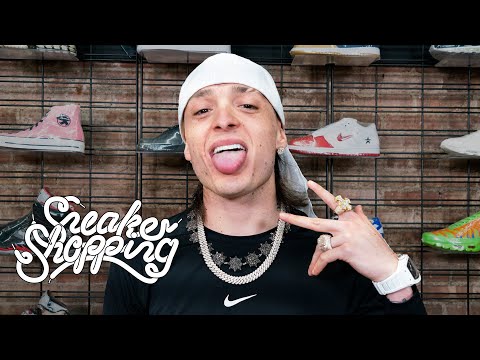 ▶️
Join Peso Pluma as he goes sneaker shopping with Complex's Joe La Puma at Flight Club in New York City. Discover Peso Pluma's love for Air Force 1s while growing up in Mexico, his experience camping out for Supreme, and the story behind Drake sending him his Nike sneakers.
Peso Pluma, the global superstar, takes us on a sneaker shopping adventure at Flight Club in New York City. In this exciting episode with Complex's Joe La Puma, Peso Pluma shares his personal connection to sneakers and his journey through sneaker culture.
Growing up in Guadalajara, Mexico, Peso Pluma developed a deep love for Nike sneakers. Specifically, he was drawn to the iconic Air Force 1s. These classic white Air Forces became his daily go-to footwear. Peso Pluma reveals that he would clean them meticulously every day and guard them with utmost care. Even today, Air Force 1s remain a staple in his wardrobe, proving that they have truly stood the test of time.
Currently, Peso Pluma boasts an impressive collection of crisp white Air Force 1s. With around 10 pairs in rotation, he ensures that he always has a fresh pair for his shows. However, he admits that sometimes shoes do get lost along the way. But fear not, as Peso Pluma always manages to replenish his collection, never missing an opportunity to stay fresh.
During his time in San Antonio, Peso Pluma experienced a shift in his sneaker style. He embraced the black Air Force 1s, adding a touch of versatility to his wardrobe. Additionally, he started incorporating Air Maxes into his rotation, influenced by the hip-hop culture he encountered in the United States. This fusion of styles allowed Peso Pluma to create a unique fashion statement, blending his Mexican roots with the vibrant hip-hop scene.
As the episode concludes, Peso Pluma leaves us with a sense of excitement and anticipation. His passion for sneakers and his genuine connection to sneaker culture shine through, making this episode a must-watch for sneaker enthusiasts and fans alike. Join Peso Pluma on his sneaker shopping journey and discover the stories behind his iconic footwear choices.
Remember to subscribe to Complex on YouTube for more engaging content like this. Follow Complex on their social media platforms to stay updated with the latest trends and releases in the sneaker world. Don't miss out on the exciting world of sneaker shopping with Complex and their incredible guests.
So what are you waiting for? Lace up your sneakers and dive into the world of Peso Pluma's sneaker shopping adventure with Complex.
View source: YouTube
Check out our latest stories