YouTube
I Turned VIDEO GAMES into LEGO... | A Fun and Creative Challenge!
Aiden Starling
Updated Tuesday, September 19, 2023 at 12:00 AM CDT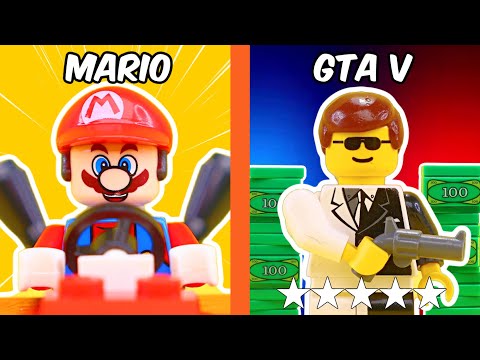 ▶️
Join me as I take on the exciting challenge of turning 15 popular video games into custom LEGO sets! From Mario Kart to Fortnite, get ready to see your favorite games come to life in brick form. Don't miss out on the fun - watch now!
In this thrilling video, I embark on a creative adventure to transform beloved video games into LEGO masterpieces. Inspired by my fans on Instagram, I decided to bring their favorite games to life in a whole new way. Let's dive right in!
First up on my list is the iconic Mario game series. Since LEGO doesn't produce official Mario Minifigs, I found some awesome knockoff versions on Amazon. With Mario, Luigi, and even a Goomba in hand, it's time to build custom carts for our favorite plumbers. The challenge is on!
Next, I tackle one of the most legendary racing maps in Mario Kart - Rainbow Road. Using a vibrant array of colorful bricks and transparent pieces to create the illusion of floating, I bring this track to life. It's so visually stunning, it's hard not to want to take a bite out of it!
But that's not all - I also construct the famous question blocks that grant power-ups in the game. With a few clever building techniques, these blocks are ready to be hit and reveal their surprises. Get ready for a hype racing montage!
Moving on, I explore the world of Fortnite. To capture the essence of this popular battle royale game, I purchased custom knockoff Fortnite Minifigs online. Equipped with realistic-looking weapons, these Minifigs are ready for action. But I don't stop there - I create custom accessories like gliders, shield potions, and pickaxes to enhance the Fortnite experience.
And of course, what's Fortnite without the iconic battle bus? I construct a LEGO version of this blue school bus that drops players off at the beginning of each round. It's a crucial part of the game, and now it's a part of our LEGO world too.
To add even more excitement, I showcase an official LEGO Mario set that I purchased on Amazon. With a thousand pieces, this set features a brick-built Bowser character and a magnificent castle for him to rule. The attention to detail is incredible, and there are even moving features to bring the game to life.
Join me in this thrilling journey of merging video games and LEGO. From Mario Kart to Fortnite, witness the transformation of these beloved games into brick form. Stay tuned for Part 2 on Sacred's channel, where we'll continue this exciting adventure.
Don't miss out on the fun - follow me on Instagram for behind-the-scenes footage, sneak peeks, updates, and announcements. Let your imagination run wild as video games and LEGO collide in this epic challenge. Get ready to level up your LEGO game!
Remember to check out the links in the description for Mario Minifigs and other LEGO army Minifigs on Amazon. And don't forget to subscribe to SacredBricks for Part 2 of this incredible journey. Let the gaming and building begin!
View source: YouTube
Check out our latest stories