YouTube
KSI vs. Tommy Fury: Intense Face Off Before Epic Showdown
Jaxon Wildwood
Updated Monday, September 18, 2023 at 12:00 AM CDT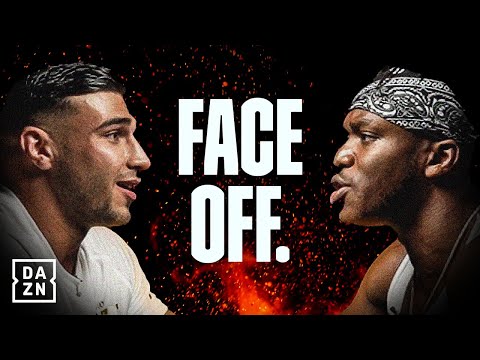 ▶️
KSI and Tommy Fury, two formidable fighters, sat down for a heated Face Off ahead of their highly anticipated match on October 14. KSI, known for his YouTube fame, is preparing for his biggest test yet, while Tommy Fury aims to put an end to YouTube boxing. Don't miss this epic showdown!
In the world of YouTube boxing, KSI and Tommy Fury are two names that have been making waves. With their upcoming match scheduled for October 14, fans are eagerly awaiting the clash between these two fighters. The tension between them was palpable during their recent Face Off, where they exchanged words and stared each other down.
KSI, also known as Olajide Olatunji, is no stranger to the boxing ring. Despite his YouTube background, he has proven himself as a formidable opponent in previous matches. However, Tommy Fury, the younger brother of heavyweight champion Tyson Fury, is determined to make a name for himself and put an end to YouTube boxing once and for all.
During the Face Off, KSI and Tommy Fury engaged in a war of words. KSI, confident in his abilities, taunted Tommy Fury, stating that he would plow through him. Tommy Fury, on the other hand, remained calm and expressed his excitement for the upcoming match.
The size difference between the two fighters was also a topic of discussion. KSI pointed out that Tommy Fury was smaller than he expected, but Tommy Fury assured him that his speed and power would make up for it. The tension between them continued to rise as they debated their training routines, with KSI claiming that Tommy Fury neglected leg day.
As the Face Off came to an end, both fighters made their intentions clear. KSI vowed to come straight at Tommy Fury, hitting him hard and knocking him out. Tommy Fury, however, remained confident in his abilities and promised to show KSI a different level of boxing.
With the KSI vs. Tommy Fury match set to headline one of the biggest boxing events of the year, fans can expect an intense showdown. The clash between these two fighters represents a merging of worlds, where YouTube stars step into the boxing ring to prove their skills.
Don't miss out on this epic battle between KSI and Tommy Fury on October 14. Subscribe to the DAZN Boxing YouTube channel to catch all the action. Witness history in the making as these two fighters go head-to-head in a fight that promises to be unforgettable.
View source: YouTube
Check out our latest stories