YouTube
Colorado State Rams vs. Colorado Buffaloes | Full Game Highlights
Kaylee Everhart
Updated Monday, September 18, 2023 at 12:00 AM CDT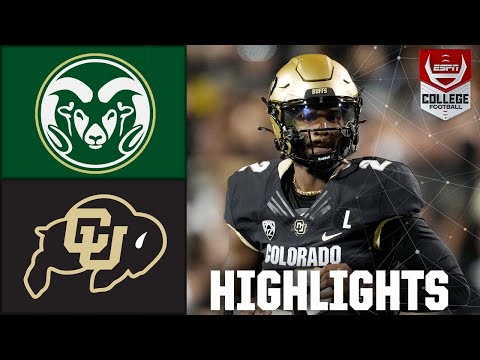 ▶️
The No. 18 Colorado Buffaloes stage an incredible comeback to defeat the Colorado State Rams in a thrilling double overtime victory. Shedeur Sanders shines with 348 passing yards, 4 touchdowns, and 1 interception. Join us as we recap the exciting moments from this intense rivalry game.
In a highly anticipated matchup between the Colorado State Rams and the Colorado Buffaloes, fans were treated to an exhilarating game that went down to the wire. The No. 18 ranked Buffaloes showcased their resilience and determination as they overcame an 18-point deficit in the fourth quarter to secure a thrilling 43-35 victory in double overtime.
Led by quarterback Shedeur Sanders, son of legendary NFL player Deion Sanders, the Buffaloes' offense came alive with an impressive display of passing prowess. Sanders showcased his arm strength and accuracy, throwing for an impressive 348 yards, 4 touchdowns, and 1 interception. His ability to lead the team and make crucial plays under pressure was instrumental in the Buffaloes' comeback.
The game started with both teams trading blows, but it was the Rams who struck first with a touchdown. However, penalties plagued the Rams throughout the game, hindering their progress and giving the Buffaloes opportunities to capitalize. The Buffaloes' defense stepped up, forcing turnovers and making crucial stops to keep the game within reach.
In the second half, the Rams continued to put pressure on the Buffaloes' defense, extending their lead to a seemingly insurmountable 18 points. But the Buffaloes refused to back down. With Sanders leading the charge, the Buffaloes' offense found their rhythm and started to chip away at the deficit.
As the clock ticked down, the Buffaloes' determination paid off. Sanders connected with his receivers, making big plays and finding the end zone multiple times. The game reached its climax in double overtime, with the Buffaloes sealing the victory with a touchdown that sent their fans into a frenzy.
This game showcased the intensity and passion of a true rivalry. Both teams fought tooth and nail, leaving everything on the field. The Buffaloes' victory not only solidified their undefeated record but also showcased their resilience and ability to overcome adversity.
If you missed this thrilling game, be sure to catch the full highlights and witness the incredible comeback by the Colorado Buffaloes. Subscribe to ESPN+ for more exciting sports content and stay up to date with all the latest action. Don't miss out on the next thrilling matchup between these two fierce rivals.
Remember, the game is never over until the final whistle blows. Stay tuned for more exciting sports moments and be part of the action.
View source: YouTube
Check out our latest stories