YouTube
Blitzø VS Grandpa: A Hilarious Showdown in Helluva Boss
Skylar Hawthorne
Updated Sunday, September 17, 2023 at 12:00 AM CDT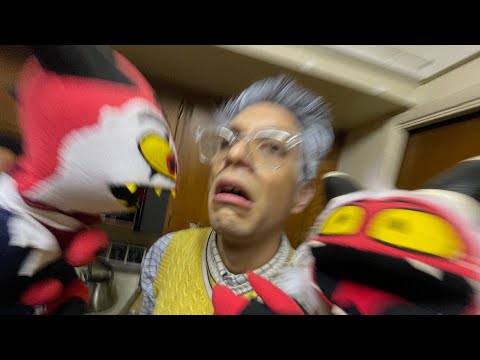 ▶️
Get ready for a wild ride as Blitzø, the male assassin from Helluva Boss, faces off against an unsuspecting grandpa. This YouTube video is filled with humor, puppetry, and unexpected twists that will leave you laughing out loud. Don't miss out on this epic battle between good and evil!
In this YouTube video titled "Blitzø VS Grandpa," we are introduced to a hilarious clash between two unlikely characters. The video, based on the series Helluva Boss by Vivienne Medrano, is a must-watch for fans of the show and anyone looking for a good laugh.
The video begins with the grandpa going about his normal day, doing typical grandpa things. However, his peaceful day takes an unexpected turn when he hears three mysterious knocks. Little does he know that this will be the start of an outrageous encounter.
Suddenly, Blitzø, the male assassin, makes his entrance, bringing chaos and humor to the scene. With his witty remarks and unconventional methods, Blitzø adds a unique charm to the video. The puppetry work by Maggie Roberge and the puppeteer, Jayden Libran, brings the characters to life, adding an extra layer of entertainment.
As the video progresses, the grandpa finds himself caught up in a whirlwind of absurdity. From dog-related discussions to pillow attacks, every moment is filled with unexpected twists and turns. The comedic timing and clever dialogue keep the viewers engaged and entertained throughout.
The video also features impressive cinematography by Liam Krug, capturing the action and humor in a visually appealing way. The combination of well-executed puppetry, engaging storytelling, and comedic elements make this video a standout in the Helluva Boss series.
With its unique blend of humor and creativity, "Blitzø VS Grandpa" is a YouTube video that will leave you wanting more. Whether you're a fan of the Helluva Boss series or simply looking for a good laugh, this video is sure to deliver.
So, grab some popcorn, sit back, and enjoy the hilarious showdown between Blitzø and the unsuspecting grandpa. Don't miss out on the laughter and entertainment this video has to offer. Watch "Blitzø VS Grandpa" now and prepare to be entertained like never before!
View source: YouTube
Check out our latest stories